Following in the wake of the Vanguard Vets I finished a little over a week ago, I give you my first two Raven Guard Land Speeders. Ready to dart out of the shadows and blast their enemies to dust.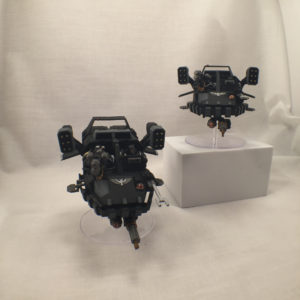 Like my other Raven Guard, I've gone with a fairly simple paint scheme, black base with greys, silver, gunmetal, and bronze to pick out details. I also added some brass for the tips of the missiles. The drivers and gunners both got Forgeworld shoulders, but I used the default chest since most of the details would have been covered up anyways. There are sadly a few minor construction issues that I didn't notice until halfway through painting them, including the fact that on the first one I glued the passengers in before painting, which made them a real pain the ass.
I'm working on building a 1000 point Shadow Force to start out my Raven Guard army, essentially doubling up the boxset that came out a while back. So I've got a ten man squad of Sternguard Veterans queued up next to finish the force. Until then, I give you a group shot of some of the force so far.