About a year or so ago we had a little modeling competition here among my gaming group and I managed to win a Stompa kit. Which I quickly stashed away with every intention of building, but which just gathered dust. Part of the reason was that I knew I couldn't just build the base kit, I simply couldn't get over the fat guy in a muumuu look that he had going on. So I worked on other things as I gathered ideas to make my custom stompa a reality.
The build is finally done, painting him might take awhile, though.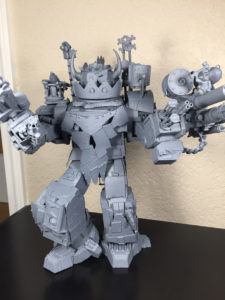 The build took me about a month, maybe a month and a half. His final dimensions came to twelve inches from his foot to the top of the boss pole, seven inches across the shoulders, four inches across the waist. Giving him a much more ork like appearance. After all, this is an avatar of Gork (or maybe Mork). He should look like a hulking death-dealing war machine, not just a fat guy with a big gun.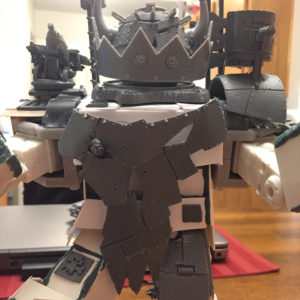 His core is an old busted transformer toy I had in my junk box. That allowed me to get him an interesting pose that I then used superglue to lockin before I started gluing bits. I ended up using about ninety percent of the actual Stompa kit to make him, along with a huge amount of plasticard, lots of green stuff, and a massive number of additional bits from my bit box. There are parts from a ork trukk kit, some Forgeworld bits, some tau parts, and several parts from random other kits, both GW and otherwise. I'm very glad I found a use for my Grot Bomb, its too bad Forgeworld discontinued them.
I managed to fit all of the grots from the Stompa kit on him in different interesting spots. My favorite is hte one dangling from the ladder that hangs from the access point I placed on the Stompa's back. Poor guy is hanging on for his little grot life.
One of my favorite extra features is the head, which I designed to use magnets to come off for use as an objective marker. Plus it's large enough to be a small line of sight blocking terrain piece. As you can see he's a truely massive beast. His head is the size of a Killa Kan, and a Forgeworld Mecha Dread only comes up to his knee.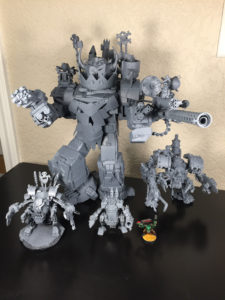 He is without a doubt the biggest model I have ever kitbashed. And once painted is going to be a true centerpiece for my great hoard. Of course, he probably won't get painted for another year at the pace I'm going.