Been rather radio silent of late, the downside of being an adult is that real life likes to get in the way of fun stuff like building and painting models.  Still I've recently gotten a project done that was sitting on the shelf collecting dust for quite a while.
I give you the Mega Dread.  Not a clue how effective he'll be on the table, but he will look amazing towering over all my Boyz.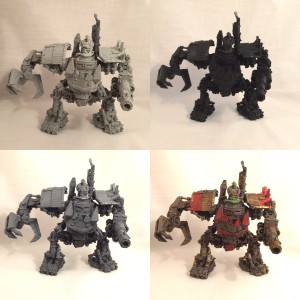 As is typical for me I couldn't just use the stock model, even if he is from Forgeworld.  This time it's only a minor modification though, adding a large smokestack pair to the left side that I cobbled together using bits from a trukk and battlewagon.  Otherwise a little green stuff to fill out the ork's helmet since it was chipped, and then a few troublesome bubbles you can't really see in the pick and he was ready to start painting.
I did something a little different when priming this guy.  I started with a flat black all over prime, and then a spray of gray just from the top.  This made sure all those hard to reach recesses would be in black shadows while I'd have a lighter color everywhere else so the rest of the colors would still be bright.
The actual color scheme followed what I've done on my bikers and trukks prior to this.  Lots of metallic and plenty of red, then purple and magenta as accents on tubes and hoses.  Then everything topped off with a layer of rust, dirt, and grime in the form of GW Ryza Rust and Nul Oil.
I'm pretty happy with how he's come out, and I've already started on a base and then a Deff Dread and some Killa Kanz to go with him.  Feels good to get back into the hobby groove.