About two months back I posted the build for my custom Ork Trukk. While I really love how it came out, I have found that its primary role in my army has becomea transport for my Tankbustas. Since I have decided to build a custom squad of them with a WW2 theme I figured it would be a cool idea to build a second Trukk that fit the same look.
The original plan was to search out a model of the German SdKfz 251, of which there are plenty, but then I stumbled upon Dreamforge Games' Eisenkern 'Keilerkopf' APC; which is essentially a stylized sci-fi SdKfz 251. It's a beautiful kit, and prefect for my purposes.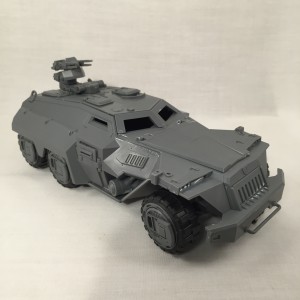 The box is fairly simple, the front and back depicting a large CGI rendering of the model, while the sides and have images from various angles of a fully painted model. These images also show off the various features of the finished kit.  When complete the kit has alot of moving parts.  The hood, doors, and various hatches open, the top is removable to reveal the seating compartment, and the mounted top gun has a great deal of articulation.  All six wheels roll and the front wheels can actually turn, allowing for surprisingly dynamic look.
Opening the box revealed the sprues, nine in total with an interlocking system that kept them all in a tidy pile.   A smaller sprue of the main body sections sat on top along with a small bag containing the screws, clear plastic sprues, and the rubber tires.
The instruction sheet is extremely clear, and every sprue and part is lettered and numbered for ease in finding the piece needed for each step. Even so this is an intricate model that reminded me much more of a high end collector's kit then any game miniature I have assembled.  I did skip a few steps in assembling it for this review because I plan on making modifications later, as a result its lacking the front mirrors.
The APC is listed as 1/56 and is much closer to truescale then the typical Games Workshop vehicle. It measures 7.5 inches long by 3.5 inches wide, and is roughly 3 inches tall.  It even comes with two optional sprues to build all of the troops to sit in the back of the vehicle. As a result, it looks huge next to a typical 40k miniature and meets my desire for a big military looking Trukk perfectly.
Considering the size and detail of the kit the price is excellent, but it still will set you back fifty to sixty dollars depending on where you order it. It might seem expensive, but the quality of the parts and the engineering are more inline with an upscale model rather then a gaming piece.  It's really a steal at that price, I highly recommend this one. I would look great in an Imperial army, and with some modifications, I think it would be pretty sweet in a Sisters of Battle or Marine force as well. It will take a bit more to fit with my Orks, but I'm looking forward to the challenge.  Its heading to the chop shop as we speak for a right proper make over.