I love the concept and rules of the Ork Tankbustas, I even love the look of the official models. What I do not like however is finecast, which is the only material currently available. Therefore, I decided to see what alternatives I could find and stumbled upon the Orc Tank Hunters Squad from Kromlech.
Kromlech is a company out of Poland that produces high quality resin miniatures and model bits. Their specialty is WW2 German themed Orc miniatures, though they do also have an assortment of Space Marines, Chaos Demons and Marines, along with a few Imperial Scotsmen. The Tank Hunters are from their Orc Greatcoat line.
Each of the Tank Hunters consists of five parts, and there is a fair amount of variation available with different grenades, rocket launchers, and guns. There are also three versions of the Goliath mines that come with the set, and different missile tips to put on the rocket launchers.
The miniatures are made of a rigid resin and are highly detailed. There were zero mold lines and very little flash to deal with; even those parts still on the sprue came molded so that the connection points were as unobtrusive as possible. That is except for the shoulder pads, which will need some carving to remove a large block where the sprue connected on the underside. It is also worth mentioning that the same hardness of the resin that allows it to hold so much detail also means that it has zero flex. I  managed to snap a few small pieces as a result, but the breaks were clean and easily repaired.
Once I accomplished some minor cleaning, everything went together about as easily as any GW model I have dealt with. As with any resin, they require super glue over plastic glue, and make sure you scrub them to remove the mold release. Once assembled the figures look great; though they do have a very unique aesthetic that does not really mesh with GW Orks. I really like it, but I will probably replace the heads and possibly some other parts to bring them more in line with the rest of my horde. For now, I have only assembled the one figure for these pictures.
Pricewise the set of ten costs only ten dollars more than the GW box of five Tankbustas. That price does seem to fluctuate a bit due to exchange rates though. Keep an eye on that if you plan to order from them, but the difference is usually only a few dollars depending on the day.
Along with the Tank Hunters, I also picked up the Ork Junk Barricades that will make some decent line of sight terrain pieces to place on the battlefield. Like the models, the barricades are highly detailed pieces with molded piles of tires, broken weapons, and scrap metal stacked into small walls. They are made from the same resin and the set nets you four each of five inch and two inch walls for about twenty-five dollars.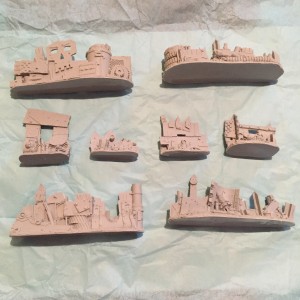 Shipping for the whole lot was just about a week, and only cost seven dollars, so on par with orders I have made from Games Workshop in the past. The entire process of dealing with Kromlech was quick and easy and I am very happy with the models. If you were looking for an alternative to Games Workshop models at a decent price, I would highly recommend Kromlech's products.