The Imperial Knights are such cool models that I got a bit overexcited and assembled the whole thing before touching the paint at all. This had consequences that have made this painting project more interesting than it would have been otherwise. The articulation was a big selling point for this model, so I left all the joints as mobile as possible and left the shoulders and waist unglued. I also magnetized the base so I could more easily stage the model, but attach him to the base for game play. I plan on playing this model with my Blood Angels, and I just think the red tones just look badass on these guys, so I'm going to paint him up like he belongs there. I learned a lot from my Dreadnought experiment previously and decided to try just layering the reds directly, instead of tinting over greyscale.
I then primed the whole thing black with my Badger Patriot (love this thing). Then masked all the panels that would later be red (intermediate image missing). Then based all the metallic parts with VMA Gunmetal. My plan for the metallics is to base with Gunmetal, then wash it black and then dry brush with Necron compound. I think this will give it a nice amount of depth.
As I said, assembling nearly the whole model had consequences. I couldn't easily separate the panels to paint them red with my airbrush as I usually would. I thought perhaps this was a good opportunity to improve on my brush work and just do all the panels by hand. I tried this on a few pieces, but ultimately just wasn't happy with the results. So, I painstakingly masked around all the panels.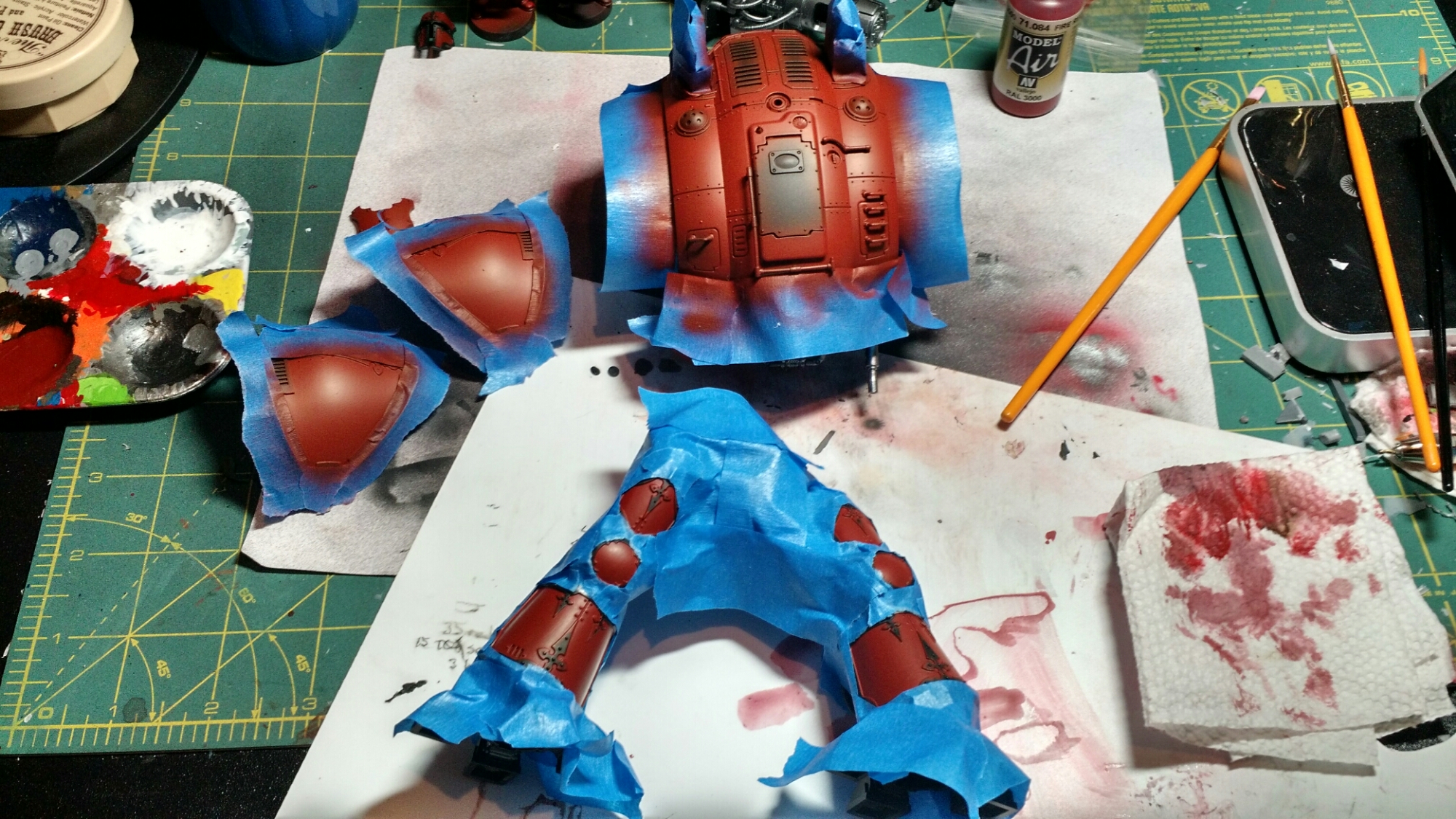 After basing with VMA Fire Red I used my custom Sanguine wash and hit all the recesses and darker areas. After that dried I used more VMA Fire Red to blend in some of the sharp edges from the wash. Finally, I highlighted using VMA Ferrari Red. I absolutely love this color.
I'm pretty happy with how this turned out in the end and layering this much red has really improved my technique. I now much prefer this method to using a tint over black and white zenith highlight. There is much more control with a similar amount of work.
Now, let's finish this off with some glamour shots!
The next stage will be edging all the red plates with gold and then touching up the metal works like I mentioned above. I've been hearing great things about the Scale75 metallics lately, so I ordered a full set of the yellow and white metallics. This should be an excellent piece to show them off.